Our local farmers market is abundant with fresh greens and citrus at this time of the year. Though the greens are delicious simmered and cooked for hours, they are also wonderful fresh! Kale has become very popular "massaged" in fresh salads… but this isn't the only winter green to enjoy this way. Collards are also delicious fresh.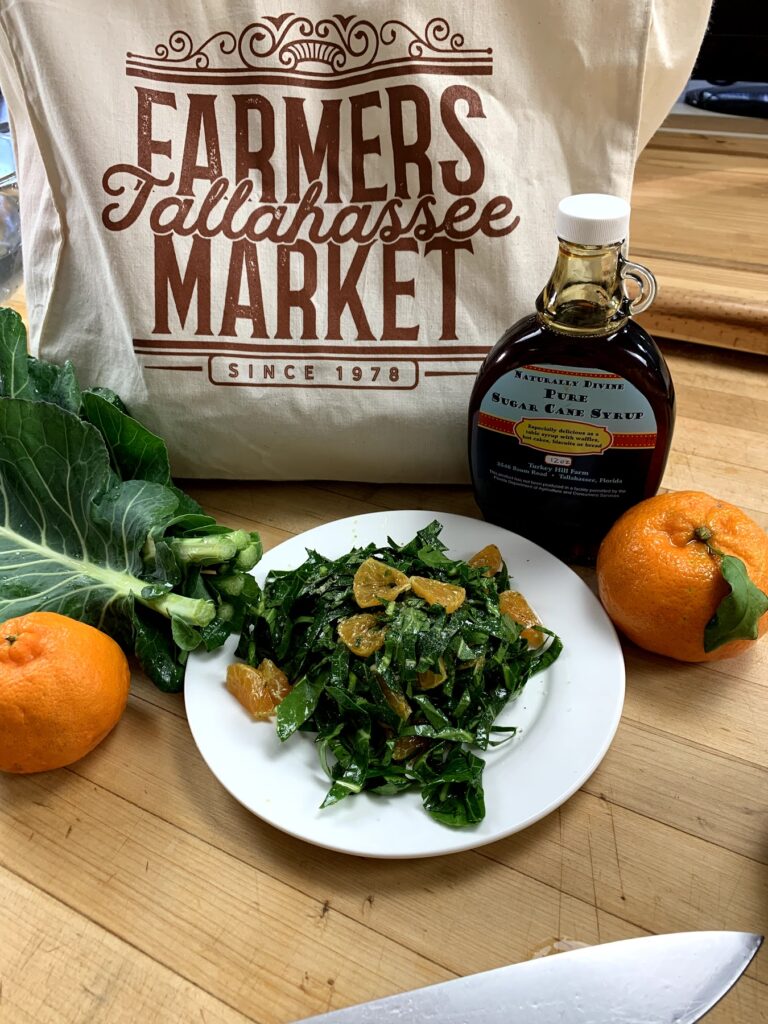 Try this simple salad with citrus and cane syrup from Turkey Hill Farm and fresh collards from Handsome Harvest. There are several other vendors at the Tallahassee Farmer's Market (at the corner of Kerry Forrest Parkway) Saturday mornings, 8am-Noon.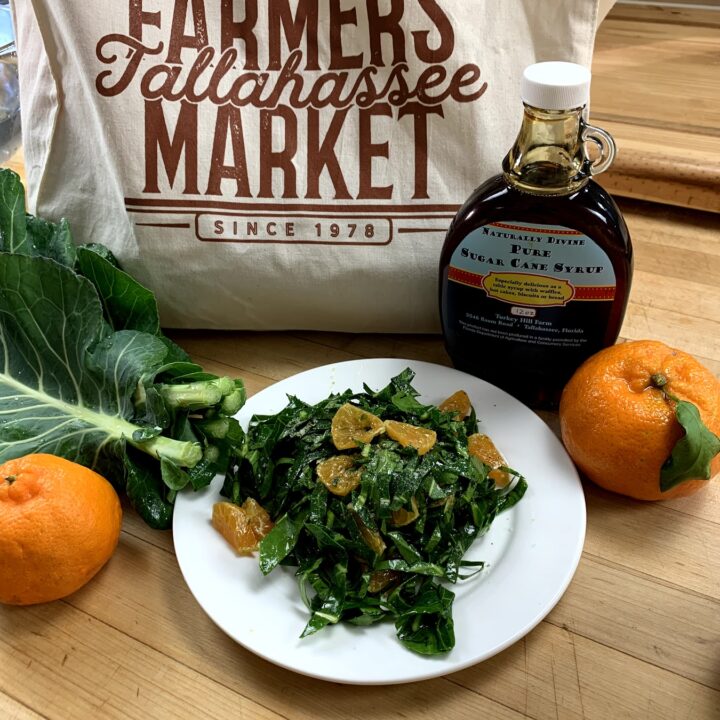 Collard and Citrus Salad
This seasonal salad is the perfect way to enjoy the winter harvest.
Ingredients
1 medium bunch collard greens (washed and tough stems removed)
2 medium oranges (seedless or remove seeds)
1 tsp cane syrup
2 tsp toasted sesame Oil
1/2 tsp KitchenAble Seasoning (or season to taste)
Freshly ground black pepper
Instructions
Rinse collard greens, remove stems, roll into "cigar" and chiffonade (cut into ribbons). You will want about 6 cups of ribbons.

Place collard ribbons in a large bowl and massage until green color deepens and collards soften slightly (3 to 5 minutes or to texture you desire). Grate orange zest onto collards. Cut off scant top and bottom of orange. Peel, slice and segment orange and add orange segments to the collards.

Squeeze juice from top and bottom of orange onto salad. Lightly drizzle with cane syrup and sesame oil. Season with KitchenAble Seasoning, or season to taste, and freshly ground black pepper.

Toss and serve.

And if you're feeling a little unsure how exactly to prepare fresh greens- you can find tips in the video below:
Post provided in support of our partnership with the Tallahassee Farmer's Market.