As December rolls around, it can be a little cold and I can really start to miss the warm beautiful weather.
This year I have a wonderful solution—I'm going to escape winter by going to the Florida Keys in January as a chef for Kayak Amelia (information is at www.kayakamelia.com).
You are welcome to come along and have me as your chef for a week.  But even if you can't make it for the trip, I thought you would enjoy this Keys-inspired dish.
Coconut Crusted Fish with Key Lime Sauce
Per Serving 515 calories
Fat 40 g
Carbs 22 g
Protein 18 g
Delicious Tropical Flavor
Ingredients
For sauce
1 1/2 TBSP fresh lime juice
2/3 cup mayonnaise
1 TBSP honey
2 tsp Dijon mustard
1 tsp finely grated peeled fresh ginger
1/4 tsp salt
1/8 tsp ground cayenne pepper
1 tsp fresh lime zest
For fish
4 cups sweetened flaked coconut (10 oz)
1 cup self-rising flour
3/4 cup beer
1/2 tsp salt
1 tsp cayenne
1 large egg
Oil for frying
2 lbs fresh fish filets (mahi mahi or other mild fish)
Directions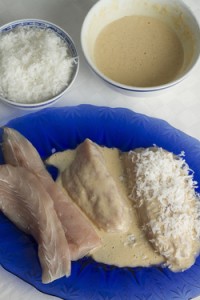 Whisk together the sauce ingredients, cover and chill until ready to serve.
Place coconut in a pie pan. In a medium bowl, whisk the flour, beer, salt, cayenne, and egg until smooth . In your fryer or a medium pan, heat the oil over medium high heat or until 350°F on thermometer.
Coat the fish. First dip in the beer and flour mixture, allow excess batter to drip off; then dredge in the coconut—cover it completely and press it on gently to help it stick. Fry until golden brown, about 4 minutes (depending on the size of your fillets). Skim any loose coconut from your oil and continue frying until all fish is cooked. Serve with sauce.