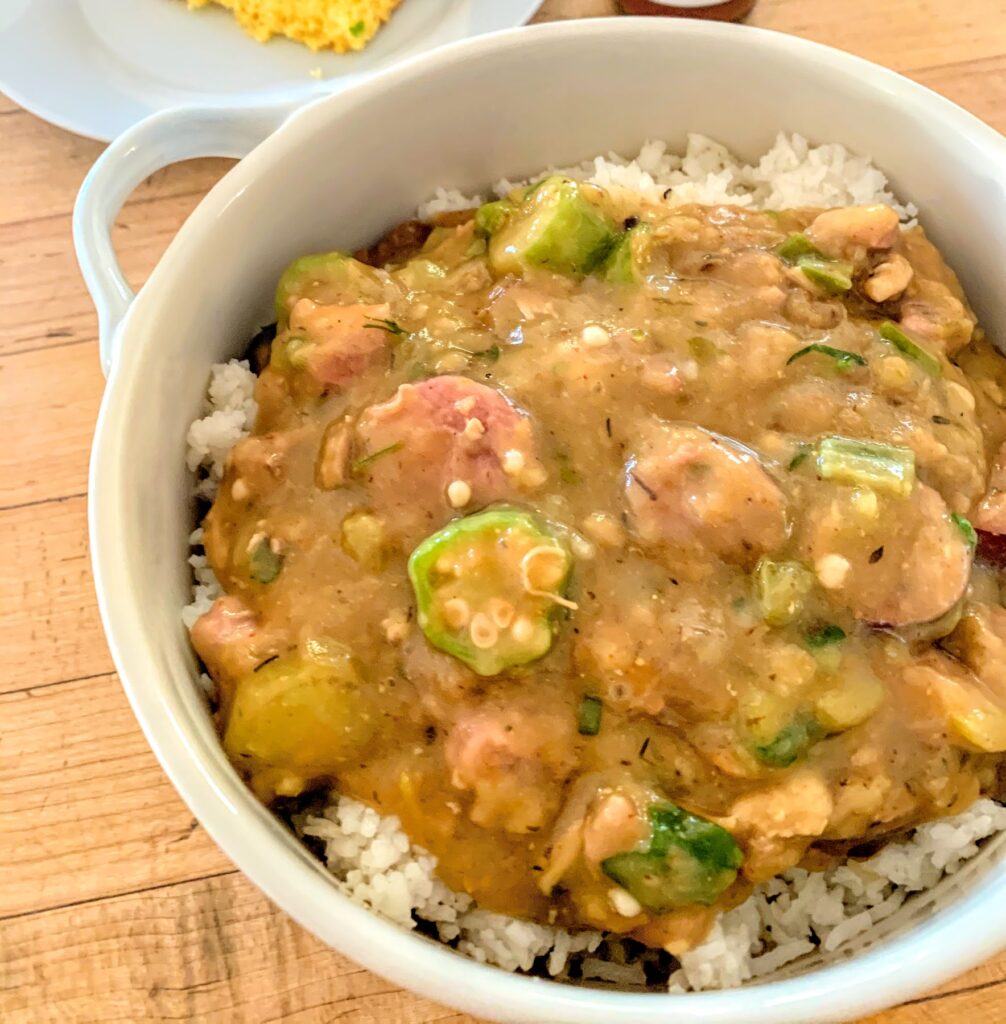 If you think about it, gumbo is really a gravy soup. You start with a roux, which is equal parts fat and flour (just like gravy)…then you add stock and other ingredients to end up with a delicious bowl of comfort food. It is easy to customize your gumbo recipe to include many protein options. Though chicken and sausage are among the easiest proteins to source, I have also made gumbo with quail, duck, venison, turkey, shrimp, and crab.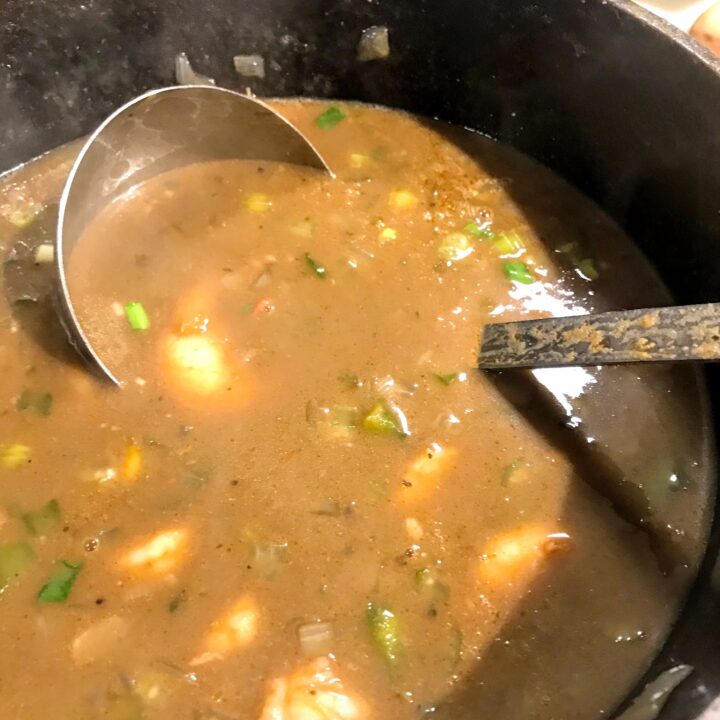 Chicken and Sausage Gumbo
Total Time:
1 hour
20 minutes
Ingredients
1 TBSP extra virgin olive oil
1 lb. smoked sausage, cut into ¼ inch slices
1 tsp KitchenAble Seasoning
1 TBSP extra virgin olive oil
1 lb. boneless, skinless chicken thighs
1 cup clarified butter (ghee)
1 cup all-purpose flour
¼ tsp cayenne pepper
2 cups chopped onions
1 cup chopped bell peppers
1 cup chopped celery
2 tsp minced garlic
1 tsp thyme
3 bay leaves
6 cups chicken stock
2 TBSP chopped fresh parsley
½ cup chopped green onions
1 TBSP file powder
Instructions
Heat a large Dutch oven (preferably cast iron) over medium heat, add 1 TBSP olive oil and the smoked sausage. Cook sausage until golden brown, remove from the pan and place in a large bowl. While sausage cooks toss the chicken with the remaining olive oil and KitchenAble seasoning. After removing sausage add chicken to the pan and cook until golden brown and remove it from the pan, placing it with the sausage in the large bowl. Add the butter to the Dutch oven, stir in the flour and continue to cook over medium heat for about 20-25 minutes (stirring constantly) to make a dark "chocolate" roux.

Add the cayenne, onions, peppers, celery, garlic, thyme, and bay leaves; continue to stir and cook until the vegetables are soft; about 10 minutes. Add the stock, sausage, and chicken to the pan and reduce heat to medium low. Allow mixture to simmer, uncovered, for at least an hour until chicken is tender, simmer even longer for better flavor. Stir in parsley, green onion, and file. Taste and add additional seasoning if needed.

Serve with rice.

Notes
File is a ground herb made from the leaves of the sasafrass tree. It helps to thicken the gumbo however if you like okra- you can add a few cups of okra as the stew simmers instead. Okra also helps to thicken the stew.