A few years ago some local agricultural gurus had the brilliant idea to gather annually with fellow farming foodies to celebrate tomatoes and so the Tomato "Feastival" was born. Louise Divine and Herman Holley opened their beautiful farm, Turkey Hill and hosted the flocks of hungry tomato enthusisats for several years until the crowds outgrew their space.
Last year the Red Hills Small Farm Alliance hosted the grand event on the lawn of Goodwood plantation. Of course, as is necessary with any event that celebrates a crop at its peak, the "Feastival" consistently occurs when the tomatoes are ready. This coincides with hot afternoons, powerful but brief thunderstorms, and a pleasant cool after the rain. During all four of the "Feastivals" I have attended, there has been rain. Last year however the storm was was very intense but it did not dampen the spirits of the attendees. When the thunder clapped we all gathered together in a small cottage on the grounds, it was very cozy. But after a short while we emerged to enjoy the festivities.
Tomato tasting, games for the kids, a photo booth, cake walk, corn hole, live music, and other opportunities abound as local farmers sell tomatoes and other seasonal items. We participated with a booth where we sold our famous tomato pie. We could be fancy and call this a tomato tart or extra fancy and call it a tomato galette… but to be honest, the important word in the name of this dish is the first, tomato. It does not matter what you put a locally grown, ripe heirloom tomato from a local farm (or garden) on. If you grew it correctly in the rich soil we are so blessed to have you are going to bite into something that knocks your socks off, even if they are a little damp from a thunder shower.
So, enjoy this recipe that is a little different from some of the others out there- I include a little tarragon and datil pepper because I usually have both in my garden at this time of the year. You could make this recipe with a double crust- I do love pie crust (pâte brisée if you want to be fancy). However this is TOMATO pie… so I like to keep the ratio of tomato to crust proportionate enough for people to remember that.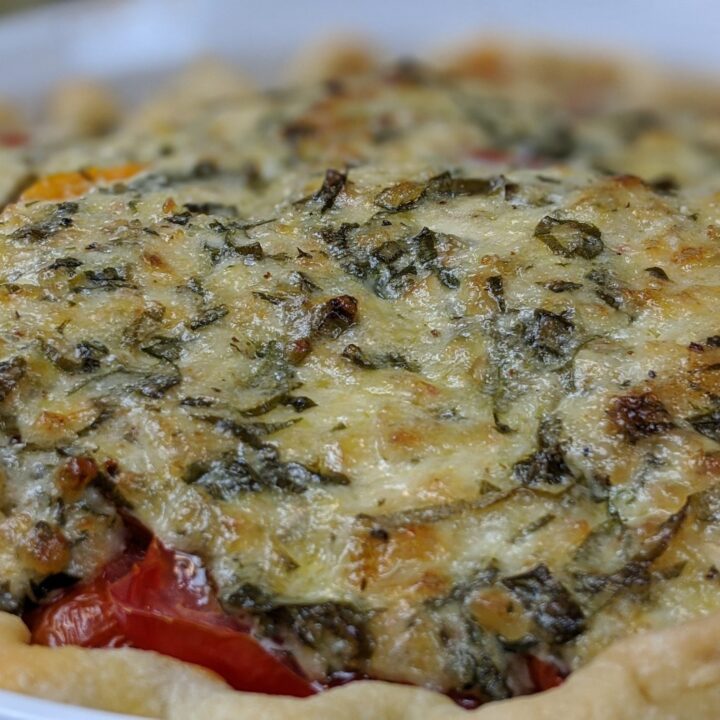 Tomato Pie
A delicious and simple, savory pie with tomato, cheese, and herbs.
Ingredients
1 uncooked pie crust
2 lbs fresh ripe tomatoes of choice
3 TBSP fresh tarragon, minced
pinch of dried pepper of choice
1 bunch green onions, minced
1½ cups grated parmesan cheese*
⅓ cup mayonnaise
2 TBSP fresh squeezed lemon juice
¾ tsp KitchenAble seasoning
Instructions
Preheat oven to 450°F.
Place pie crust in the bottom of your pie pan, flute the edges, tine the bottom, line with foil, fill foil with an even layer of dry beans (to hold crust in place as it bakes) and bake crust for 9 minutes, remove from oven. Carefully lift foil and dry beans off of crust.
Slice the tomatoes (or cut in half if using small heirloom varieties). Arrange the tomato on the prepared crust. Stir together the tarragon, pepper, onion, cheese, mayonnaise, lemon juice, and seasoning. Spread mixture over tomatoes.
Bake at 350°F for 25 minutes, until bubbly and golden. Remove from oven and allow it to rest for about 15 minutes before cutting.

Notes
This recipe can also be used to make 4 mini pies or doubled and placed in a half-pan to make a slab pie.
If you have fresh hot peppers available (instead of dried) use to your liking with the other ingredients.
Nutrition Information
Yield

8
Serving Size

1/8 pie
Amount Per Serving
Calories

127
Total Fat

7.7g
Saturated Fat

3.2g
Cholesterol

12mg
Sodium

332mg
Carbohydrates

8.4g
Fiber

1.7g
Sugar

3.9g
Protein

7.1g
Nutrition information does not include crust- please add the nutrition values for the specific crust time you are using.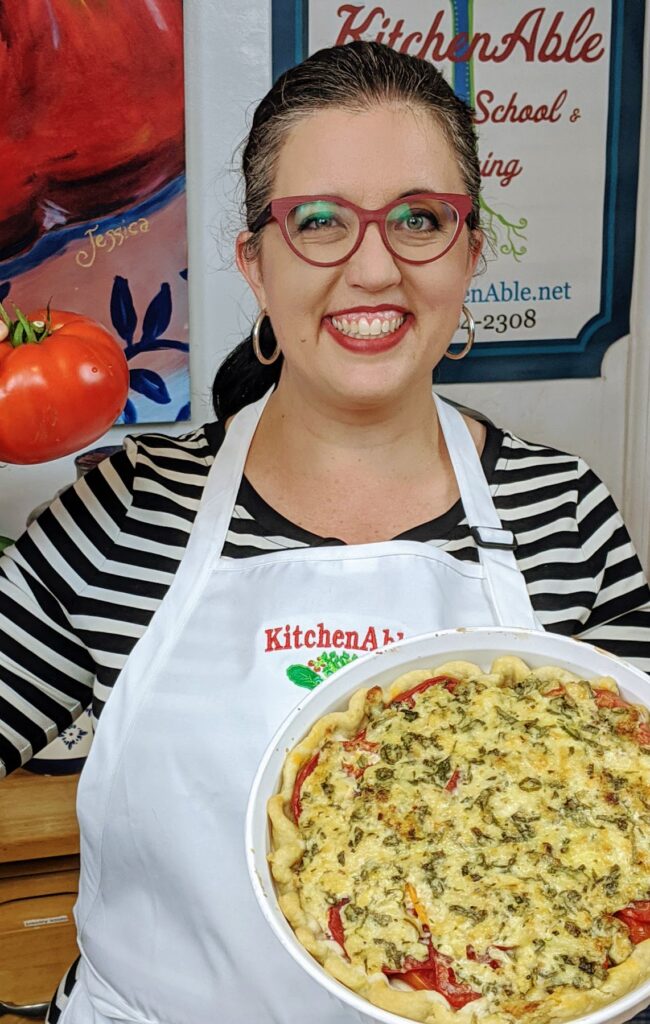 Thank you for sponsoring this post- Red Hills Small Farm Alliance