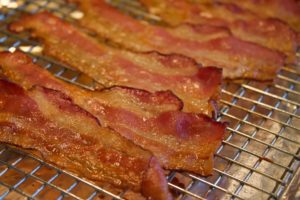 There are few words that seem to elicit the excitement like the word "bacon".  It seems like bacon is the new chocolate.  Many of my friends (you know who you are!) are self confessed baconaholics.  Not only do they start their day with as many pieces as possible, they sprinkle it on everything that they're going to eat.  One friend even loves bacon so much that she enthusiastically teaches the A.S.L. sign for bacon to anyone that happens to eat breakfast with her. She even called me after watching the "Eat a Rainbow" segment I filmed for PBS and asked if her rainbow could include bacon!  (The answer was, 'HA!')
If, like me, you are surrounded by bacon junkies, supplying their habit with perfectly cooked strips, in the volume they want, can be a challenge.  While I don't condone over-eating it, there are often times (like when company comes) that I need to be able to prepare a huge quantity of bacon at once.
Growing up in a rurual area of the South, I don't remember my parents or grandparents cooking it any way but FRIED.  As
pleasant as that fragrance was before eating breakfast, smelling it all-day-long could get old.  Not to mention, it made a huge mess, spluttering all over the cooktop.
When I went to college I learned many things, including how to cook bacon for a crowd.  As a student at Florida State University, I worked for the catering services department there and often marveled at the mind boggling quantity of BACON they would crank out for the dining hall, where a breakfast buffet that included ALL YOU CAN EAT BACON was frequented by thousands of hungry, college, guys (who seemed to eat their weight in bacon).  Though those college boys swooned with admiration for whoever had cooked that dream breakfast for them.  I found it amusing that the bacon guru that provided their fix was an older, visually impaired, gentleman who painstakingly placed every strip of bacon, side-by-side, on sheetpans to bake in our ovens.  This baconmeister spent hours each day, aligning the thousands of strips of bacon our campus consumed.  He was probably, secretly, the most admired person on staff in that kitchen.  Honestly, there aren't many culinary professionals that can top the description of "I cook the bacon".
Prep Time: 5 minutes
Cook Time: 15 minutes
20 minutes
Per Serving 266 calories
Fat 26 g
Carbs 1 g
Protein 7 g
This is my favorite way to cook large quantities of bacon and create less mess.
Ingredients
1 package bacon
aluminum foil
Sauce to top, if desired: maple syrup, sriracha, sweet chili sauce, dijon mustard, bbq sauce, etc.
Directions
Preheat oven to 400°F.
NOTES:
My favorite way to cook this is with Sriracha, I use about 1/4 cup for a whole package. My kids prefer maple bacon though sometimes I add fresh ground black pepper to that for the grown-ups.