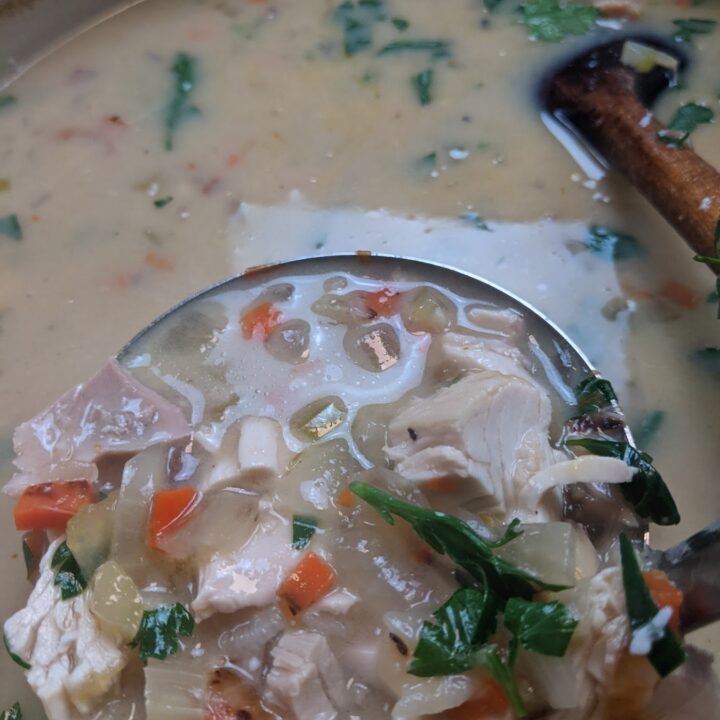 Avgolemono
A delicous chicken soup that is finished with a lemon and egg sauce.
Ingredients
3 TBSP extra-virgin olive oil
1 cup finely minced onion (about 1 small onion)
1 cup small dice celery
1 cup small dice carrot
3 cloves minced garlic
8 cups chicken stock
2 cups cooked chicken, diced small or shredded
⅔ cup Arborio rice
½ cup fresh lemon juice
1 tsp fresh lemon zest
2 large eggs
1 tsp freshly ground black pepper
2 TBSP minced fresh parsley leaves
Instructions
Heat oil in a large soup pot over medium-high heat. Add the onion, celery, carrot and garlic; cook, stirring occasionally, until onions are translucent, about 6 minutes. Pour in 8 cups broth and turn heat up to high, add the rice and bring to a boil. Reduce the heat and allow the pot to simmer until the rice is almost cooked through, about 20 minutes. Add the chicken and reduce the temperature to low.

In a medium sized bowl, beat the lemon juice, zest, eggs, and pepper. Gradually ladle 2 cups of hot liquid from the soup into the egg mixture, while whisking constantly. Pour the egg mixture back into the pot slowly while stirring. Taste and season as desired. Garnish with fresh parsley and serve immediately. Yield 6 servings.


Notes
This soup can also be made with orzo (a rice shaped pasta) instead of rice. Or if you prefer to avoid grains you could add riced cauliflower instead.
When it comes to comfort foods, this classic Greek soup is hard to beat. Fresh lemon juice and egg are blended and added to the soup at the very end of cooking, so the soup has a rich, velvety texture. It's easy to understand why this is the most popular soup in Greece.
Please subscribe to our Youtube channel.