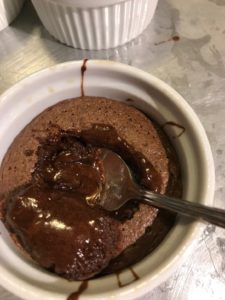 Instead of spending a lot of money eating out for New Year's Eve, we are planning to have a few of our favorite dishes at home. I'll make a special salad and roast potatoes, and my husband will throw a couple of steaks on the grill. At his request, we'll have Molten Chocolate Cakes for dessert.
I hope you'll find these very, very, rich caked are as delicious as any chocolate dessert in your favorite restaurant.
Per Serving 640 calories
Fat 48 g
Carbs 51 g
Protein 8 g
Ingredients
Non-stick cooking spray with flour
1 cup (2 sticks) unsalted softened butter
8 ounces semi-sweet or special dark chocolate chips
1/2 tsp instant coffee powder
4 large eggs
4 large egg yolks
2/3 cup granulated sugar
4 tsp all-purpose flour
1 cup fresh raspberries
Fresh whipped cream
Directions
Spray six 6-ounce ramekins with cooking spray and place on baking sheet. Preheat over to 450º.
In a large glass measuring cup, microwave the chocolate for 45 seconds; stir with a rubber spatula then add butter and coffee. Microwave for 15 second intervals, stirring after each interval until everything is melted and mixture is smooth.
Allow to cool slightly.
In a medium bowl, combine the eggs, yolks, and sugar. Using an electric mixer, beat mixture until light and fluffy and pale in color. Reduce speed to medium-low and slowly pour in the chocolate mixture. Add the flour and mix until just combined. Do not over mix.
Divide the batter between the ramekins and bake in the oven for about 10 minutes. Carefully remove from oven, cut around edges, then invert onto dessert bowl or plate. Allow ramekin to sit upside down on the plate for 10 seconds then carefully lift it off of the cake. The cake should retain its shape but be molten in the middle. Garnish with whipped cream and berries. Serve immediately.
If you prefer to make these ahead of time, do not bake; cover with plastic wrap and refrigerate until ready to serve, then follow baking instructions and add an extra minute or two.