The last few days of summer vacation are quickly ticking by. In order to make the most of them, my son Max and I had a special day of adventures in St Augustine. It is so wonderful to have such a fabulous destination so close to our home that we go every chance we get. There are so many things to do that it was a little tough to decide what all of our adventures would be. Over the past few years we have done almost everything there is to do, but for this visit, we tried some of the "new" attractions in the ancient city.
Max is about to start third grade and like many boys his age, he loves pirates! If you've been to St. Augustine in the last year, you've probably noticed that it has recently been invaded by pirates (again).
I have mentioned in the past that my family lore says I am related to Blackbeard. We are from the area in North Carolina where Blackbeard last settled, and if you're going to claim a pirate as an ancestor, it might as well be the most notorious one.
So, Max and I started off at the Pirate and Treasure Museum.  This attraction was originally located in the Florida Keys but was recently moved north to where it now sits–rather boldly–across the green from the Castillo de San Marco, St. Augustine's Fort..
The beautiful Spanish style building that houses the museum is complete with a courtyard containing stocks for the naughty pirate, if needed. As you enter through their gift shop, the sound of cannon fire and pirate music greets you. They have been very clever to provide all of their young explorers with treasure maps when their museum tickets are purchased. These maps have clues and activities for each room of the museum and are quite handy to help keep the kids busy while the grown ups read the wealth of information in each exhibit.
As you enter through a narrow hall, you can closely examine cases of ancient relics that help reveal just how far we've come since the pirate heydays. Details about their food, medicine, navigation, weaponry, and lifestyle in general can be studied.
The hall ends as you enter a gallery of pirate portraits and other treasures. The center of the room has a very high tech, interactive display where you can learn more about their personalities in detail, and there are even a few life-sized pirates, wearing authentic clothing and weapons.
From here you can venture on to a room that resembles a ship's deck. Here you can learn about the cargo and trade routes. You can also fire a cannon, and if you dare, you can climb into the hold of a ship and have a hair-raising experience. There are several other rooms that you can wander through to see an original Jolly Roger, lift a real gold bar, and admire a true pirate treasure chest.
Not all of the treasures you find, however, will be old; they also have a collection of memorabilia from pirate movies–including The Pirates of the Caribbean. I have to be honest and admit that I was surprised by what a treasure this attraction was for my family. As soon as we left, Max was plotting to return again soon.
From there we decided to walk the plank and went on to board the Black Raven. From a distance this boat looks like a true pirate ship–only cleaner. Once you get closer, however, you will realize that there is no threat of shipworm; it is a modern boat that has been outfitted to safely allow singing and dancing pirates, along with a few dozen tourists.
There are several levels of open deck that can be explored as well as a shipboard tavern, in case a pirate needs to buy a pint of rum. The ship is large enough that it is necessary to raise the Bridge of Lions and allow passage. It was fascinating to see the bridge operate from this vantage point, even if the pirates did encourage us to yell "Hi!" to the bridge-keeper, "Jack"–only to point out that yelling hijack while on a pirate ship was not a good idea.


With our journey underway, the crew kept us entertained with pirate jokes, drinking songs, and banter about life on the sea. We were fortunate to spot a few dolphins near the ship, as well as a boat full of tourists that had been accidentally beached on a sandbar.
The spectacular view from the boat included so many beautiful things, from the lighthouse to the skyline of the city. Since we went for the early afternoon sail it was very, very hot; but there were some shaded decks and the breeze was pleasant while we were underway.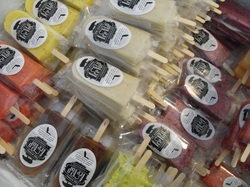 After our return to the dock, Max and I were ready for some refreshments, so we went to the "coolest" place in St. Augustine: The Hyppo. Here we enjoyed spectacular paletas (or popsicles) made with fresh fruit. I'm not normally a popsicle person, but if you haven't tried one here, you really need to…they are amazing.
Far too soon our summer will be over! I hope you'll take the time to have an adventure in St. Augustine or elsewhere before Fall sets in!
RELATED STORY: